Winona Daily News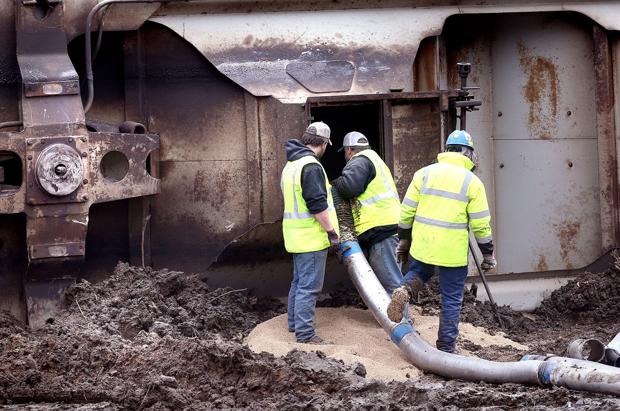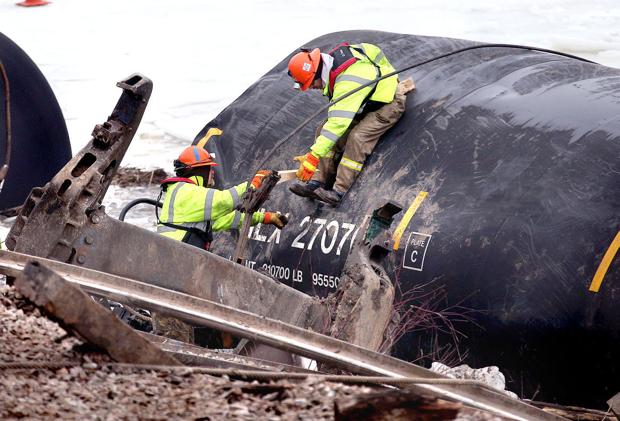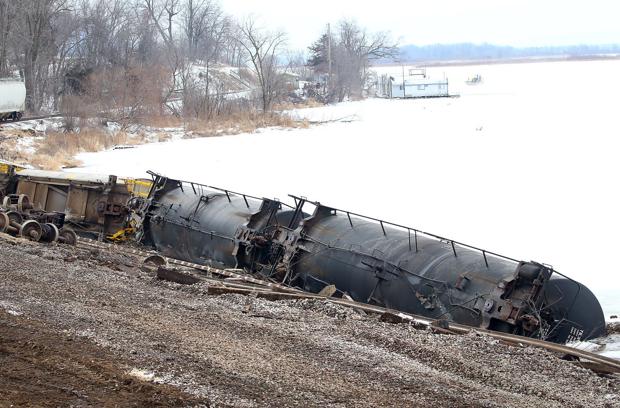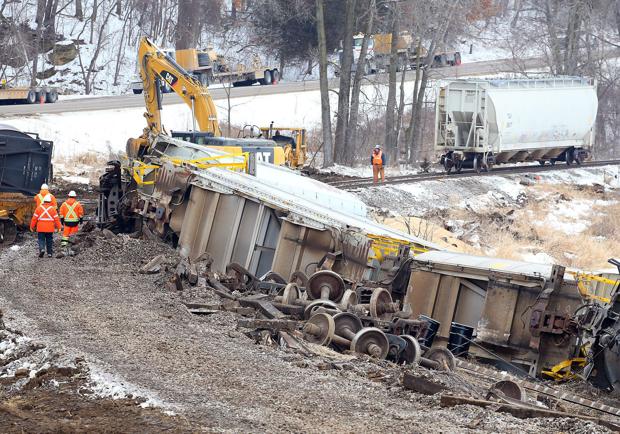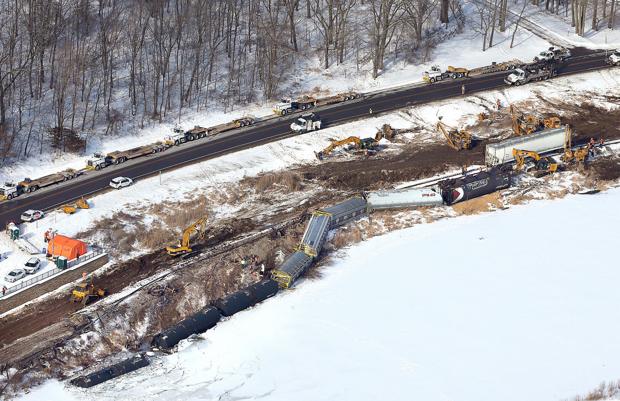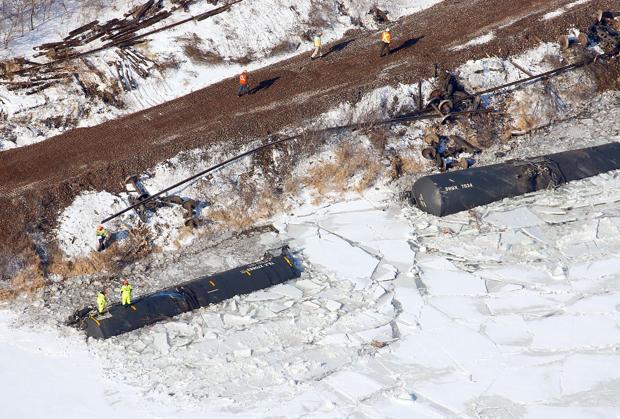 Workers empty the contents of a freight car Thursday as the cleanup continued after a Canadian Pacific train derailed late Tuesday in Houston County, Minn., sending parts of the train into the frozen Mississippi River.
As cleanup of a derailment south of Brownsville, Minn., continued for a third day, questions remained about whether the Canadian Pacific freight train was hauling crude oil, ethanol or other dangerous materials.
The 68-car train was en route from St. Paul, Minn., to Kansas City when 15 cars left the tracks Tuesdaynight, sending six tank cars and about 850 gallons of vegetable oil into the Mississippi River.
Three of the 15 cars that left the tracks were carrying sodium chlorate, a strong oxidizing agent that poses significant health and safety issues when being loaded and unloaded, according to the Environmental Protection Agency.
A small amount of the material spilled, though there was not what the EPA calls a "critical breach" and no sodium chlorate has been detected in the river, according to the U.S. Fish and Wildlife Service.
Canadian Pacific has not provided a list of what other cargo the train was hauling.
Spokesman Andy Cummings said Friday that other products on board included scrap metal, malt and flour but cited "security reasons" for not disclosing any other dangerous goods that may have been present.
Cummings said CP shares details of hazardous materials "confidentially" with first responders.
A spokeswoman for the EPA said she did not know whether the railroad had provided a manifest to the agency, which is one of several monitoring the cleanup.
Phillippa Cannon referred questions about the train contents to the railroad.
A Federal Railroad Administration spokesman would only say that the incident is under investigation.
Railroads have come under increased scrutiny in recent years with the rapid growth of crude oil shipments. A CP train carrying crude oil derailed Nov. 8 in Watertown, Wis., one day after a BNSF train derailed near Alma, Wis., spilling up to 20,000 gallons of ethanol into the Mississippi River. It was the 10th North American derailment of 2015 involving oil or ethanol, according to the McClatchy news service.
According to the latest available reports, about nine trains per week run on the CP line through Houston and La Crosse counties, carrying more than a million gallons of crude. CP reported less than one train per week on the line where Tuesday's derailment occurred.
Citizens Acting for Rail Safety said that while Tuesday's derailment did not result in a major release of hazardous material, it "brings to light the potential for serious accidents that can cause disastrous consequences to our communities and environment." The rail safety group noted that hazardous materials besides oil and ethanol traverse the area daily.
Cummings said CP is required by law to accept all shipments that meet federal standards and the railroad carries a wide variety of goods, including hazardous materials.
"We take our responsibility for safe handling of these materials very seriously," he said. "Railroads are the safest way to move goods over land. When an incident does occur, we have personnel on staff with the training and expertise to respond to an incident involving any product that we handle."
Cleanup continues
Cleanup was expected to continue into the weekend as workers unloaded the overturned tankers and awaited a specialty contractor to handle the sodium chlorate.
The railroad reopened the line running south from La Crescent into Iowa around 4:30 a.m. Thursday, a little more than 30 hours after the derailment.
Railroad contractors believed Thursday they had contained the leaking oil and unloaded three tanker. They planned to unload the remaining three Friday. Barriers were placed in the river to contain any oil that made it into the river.
Though it's not considered a hazardous material, vegetable oil can coat aquatic animals and prevent them from absorbing oxygen, said Sabrina Chandler, refuge manager for the Upper Mississippi River National Wildlife and Fish Refuge.
Chandler said no visible impacts to wildlife had been detected as of Friday.
Three 55-gallon drums of spilled sodium chlorate were recovered from the site. According to the EPA the railroad is awaiting a contractor from Manitoba, Canada, to unload the remaining cars with specialized equipment to prevent the release of dust.